Local arborists, DEDICATED TO PROVIDING EXCEPTIONAL SERVICES IN BROMHAM
TREE SURGERY IN BROMHAM, BEDFORDSHIRE
Dependable Tree Surgeons Bromham
If you require a professional arborist with decades of combined skills and expertise to handle your tree care needs, then we can help. From removing multiple large trees to crown reduction, we'll swiftly address your needs.
Contact us to obtain your FREE quotation, and see how we can help you.
Welcome to Bromham Tree Surgeons
Your local, trusted arborist. Here to take care of all your tree care needs. We offer a vast array of services including the following:
Tree Surgery
We can help with all your tree surgery needs. From a large oak tree that needs removal to a small hedge.
Tree Cutting | Pruning | Trimming
When your trees need to be trimmed, pruned or even removed, we can help. All tree types taken care of.
Tree Felling
The process of cutting down either a single or multiple trees and disposing of all waste, branches & logs.
Crown Reduction
Crown Reduction removes weight from branches and allows the tree to be less 'top-heavy' & more healthy.
Stump Removal
After tree removal, the stump can also be cut below ground level to remove all traces and leave you with a clear area.
Hedge Cutting
Enhance your property with our professional hedge cutting. From a one-off trim to regular maintenance, we can help.
Emergency Tree Removal
From a loose hanging branch to a tree blocking a road or any emergency situation, we will be able to help. Contact us anytime.
Tree Reshaping
Transform the look of your trees with our professional tree pruning service, leaving them looking stunning and healthy.
Sectional Dismantling
Tree removal carried out in smaller sections to ensure no damage occurs to the surrounding area.
Dead Wood Removal
Removing dead sections and branches from a tree promotes healthy growth and can prevent disease from spreading.
Domestic Tree Surgery
We cater for all aspects of residential tree surgery. All works undertaken to the highest standard.
Commercial Tree Surgery
From builders to schools, we have many commercial clients. Call us if you also require commercial tree services.
We will ensure all your Tree Surgery requirements are swiftly dealt with. Contact us now on 01234 860 699
About us
At Bromham Tree Surgeons, we are dedicated to ensuring that the services we offer exceed our client's expectations. With decades of combined experience, you can be confident that you are in safe hands, and no matter whether your tree care needs are large or small, we will ensure we deliver the same high standard of workmanship on all projects we undertake. For the best tree surgery in Bromham and the surrounding areas of Bedfordshire, please don't hesitate to contact us anytime and schedule your FREE site survey. You can find out more about us here.
We also have a strong working relationship with fellow experts who specialise in tree surgery and arborist services. One of our valued partners in this field is Tree Felling Harleston.
Here are some photos of our skilled tree surgeons hard at work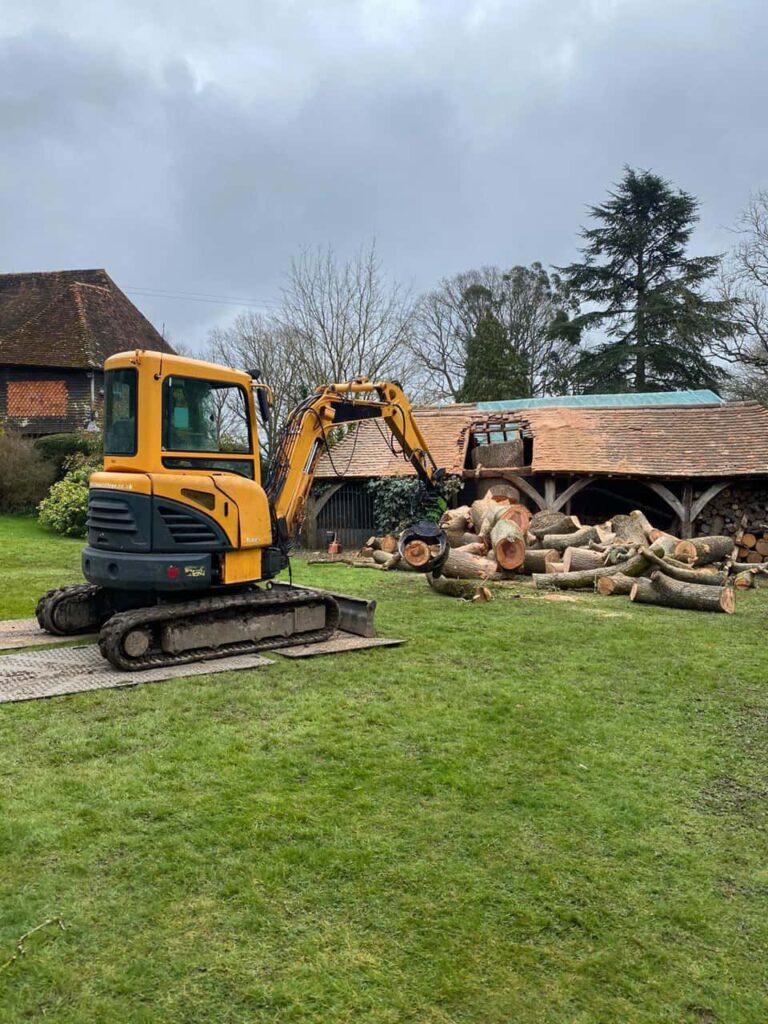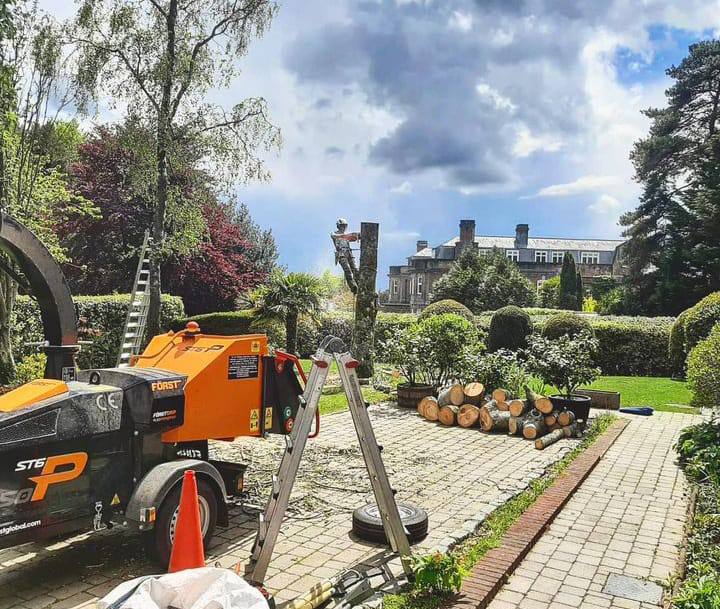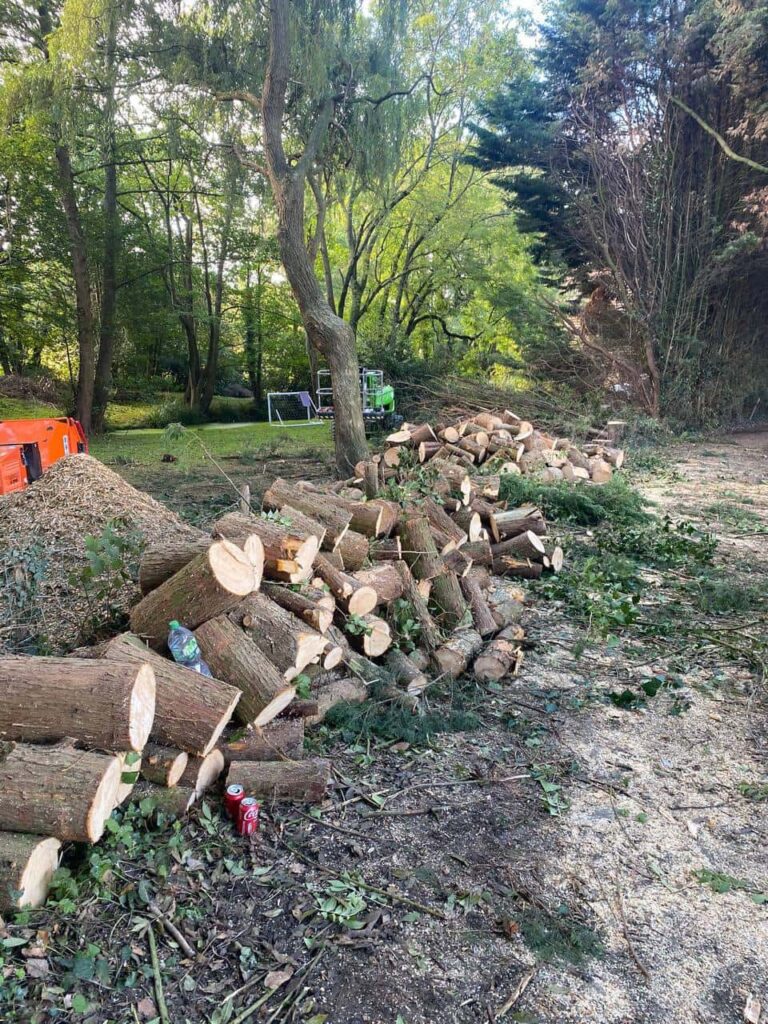 Other areas in the surroundings of BROMHAM, BEDFORDSHIRE where we can offer our tree surgery services in:
Tree surgery, often referred to as arboriculture, is a specialised field dedicated to the care and maintenance of trees and woody plants. Skilled tree surgeons, also known as arborists, possess extensive knowledge of tree biology and health, enabling them to diagnose and treat various tree-related issues. Tree surgery encompasses many services, including pruning, shaping, and trimming trees to improve aesthetics and promote healthy growth. Arborists also conduct tree removals when necessary, ensuring safety and precision in their work.
One crucial aspect of tree surgery involves identifying and addressing diseased or damaged branches. By carefully removing affected parts, tree surgeons prevent disease spread and enhance the tree's overall vitality. Additionally, tree surgeons provide expert advice on proper tree care practices, such as suitable planting locations and maintenance routines, to homeowners and businesses.
For all your tree surgery needs, we can help. Our team of experienced and certified arborists is dedicated to ensuring the well-being of your trees and enhancing the beauty of your outdoor space. Contact us today to learn more about our Tree Surgery services or to schedule a free consultation.
Tree felling is intentionally cutting down and removing a tree from its location. This activity is typically carried out for various reasons, including safety concerns, land development, or removing a tree that has become a hindrance. Tree felling requires careful planning and execution to ensure the safety of people and property in the vicinity.
Before any tree is felled, assessing its health, size, and surrounding environment is crucial. Professional tree surgeons, often known as arborists, are trained to evaluate these factors to determine the best approach for felling a tree safely. They consider the tree's lean shape and potential hazards like nearby structures, power lines, or other trees.
Felling a tree involves making precise cuts in strategic locations to control its fall direction. This is done by first creating a notch on the side of the tree facing the desired fall direction and then making a backcut on the opposite side. The tree is guided to fall in the intended direction to minimise damage and ensure safety.
No matter what reasons you have for considering felling your trees, it's important to consult experts before proceeding with your plans so that you can make informed decisions about their removal. We offer free surveys and will be happy to discuss your needs at a convenient time. Our team of experienced arborists can provide the expertise and guidance necessary to safely and efficiently carry out tree felling operations.
Tree cutting, pruning, and trimming are essential arboricultural practices that play a pivotal role in maintaining trees' health, aesthetics, and safety in both residential and commercial settings.
Tree Cutting: Tree cutting, also known as tree removal, involves completely removing a tree from its location. This service is typically necessary when a tree is diseased, dead, posing a safety hazard, or space is needed for construction or landscaping projects. Trained professionals should cut trees to ensure safety and prevent damage to nearby structures.
Pruning: Pruning is the selective removal of specific branches or parts of a tree to improve its overall structure, health, and appearance. It helps to eliminate dead or diseased branches, reduce the risk of falling limbs, and promote healthy growth. Proper pruning techniques are essential to prevent damage to the tree and encourage its natural form.
Trimming: Trimming focuses on the cosmetic aspect of tree maintenance. It involves carefully shaping and cutting a tree's canopy to enhance its aesthetic appeal. Trimming can also be used to maintain a safe clearance from structures, roads, or power lines.
Regular tree cutting, pruning, and trimming are vital to the long-term well-being of trees, ensuring they remain safe, beautiful, and disease-free. If you have any further questions about tree cutting, pruning, or trimming or would like to book a free consultation with one of our arborists, please don't hesitate to contact us anytime. We serve residential and commercial clients, providing expert tree care services tailored to your needs.
Crown reduction is a specialised tree pruning technique to reduce a tree's canopy's overall size and volume. This method is employed for various reasons, such as mitigating risks associated with overgrown branches, improving light penetration, and maintaining the tree's structural integrity.
During crown reduction, skilled arborists carefully select and remove specific branches, reducing the height and spread of the tree's crown while preserving its natural shape. This process requires precision and expertise to ensure the tree remains healthy and aesthetically pleasing.
Crown reduction offers several benefits, including reducing the risk of branches falling during storms or high winds, preventing overcrowding of nearby structures or power lines, and rejuvenating older trees that have become too large for their surroundings.
For all your crown reduction needs, we are here to help. Our experienced arborists will collaborate with you to assess whether crown reduction is the right solution for your tree. We'll then guide you through the process, ensuring you know what to expect. After completing the crown reduction, we'll provide aftercare instructions to help you maintain the tree's health and vitality for years.
Stump grinding is a practical and efficient method for removing tree stumps left behind after a tree has been cut down or fallen. These unsightly stumps can be hazardous, taking up valuable space in your landscape and attracting pests. Stump grinding solves these problems by grinding the stump into small wood chips below ground level.
The process involves using specialised equipment called a stump grinder, which grinds the stump and its roots into mulch-like material. The grinding depth can be adjusted to suit your needs, allowing for replanting or construction in the previously occupied space. Stump grinding is a speedy and cost-effective solution, leaving your property with a clean and level surface.
For all your stump grinding needs, we have years of experience and can efficiently remove stumps of any size. Our skilled professionals use state-of-the-art equipment to do the job quickly and effectively. We prioritise safety and precision, ensuring no damage to surrounding structures or landscapes.
Contact us today for a free quote and to discuss your stump removal needs. Whether you have a single stump or multiple stumps to be removed, our team is ready to provide you with a hassle-free solution. Say goodbye to those unsightly stumps and regain valuable space in your outdoor area.
Hedge cutting is a crucial aspect of maintaining your outdoor space's aesthetic appeal and functionality. Whether you have a small garden or a sprawling estate, keeping your hedges well-trimmed is essential for creating a neat landscape. At our professional hedge-cutting service, we understand the importance of this task and are committed to delivering top-notch results.
Our team of skilled and experienced gardeners specialises in hedge trimming, offering various services to cater to your needs. We use the latest equipment and techniques to ensure precision and consistency in our work. Whether you require a simple trim to maintain the shape of your hedges or more extensive pruning to encourage healthy growth, we've got you covered.
Regular hedge cutting not only enhances your property's visual appeal but also promotes your plants' health and vitality. It prevents overgrowth, which can lead to pest infestations and diseases and allows for better sunlight penetration, benefiting the overall well-being of your hedges.
Contact us today to learn more about our hedge cutting services or to schedule a free consultation. Our team is dedicated to helping you achieve a beautifully manicured landscape that you can enjoy year-round. Trust us with your hedge-cutting needs; we'll ensure your outdoor space looks its best.